Album Review: Only Ghosts by Red Fang
American heavy metal act Red Fang released their fourth album Only Ghosts via Relapse Records on 14th October. Take equal parts stoner and sludge metal, throw them together with a pinch of progressive metal and you'll be on the right track.
Sit the band alongside the heavier elements of Baroness and Torche with earlier Mastodon and you'll have a pretty accurate pigeonhole. There's moments on Only Ghosts where Red Fang go close to bettering all three – the riffs in 'Not for You' being a perfect example – but on the whole it comes in just shy of being a really good modern metal album.
Don't get us wrong, this is 100 times better than the vast majority of heavy metal albums released in recent times – it just comes in in the second tier. For a fan that isn't 100% invested in the band it won't win them over, for the initiated they'll see this as the band's finest work to date.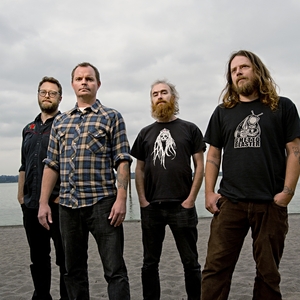 Overall it has a more polished and progressive feel than 2013's Whales and Leeches and feels like more of a return to form. There's still some real ferociousness lurking in the background, the aggression and bombastic energy of 'The Deep' shines out as the track with the most impact. Opener 'Flies' sets the album up nicely while the throbbing bass and driving riffs of 'No Air' are highlights amongst the difficult vocal.
The regular version of the album has a great closer in the form of 'Living in Lye' – you see the more progressive side of Red Fang. Big driving riffs sit alongside a more atmospheric and structured sound. The deluxe version has the brilliant stoner metal of 'Dumb Guy' and the ferocious power of 'One Hit Two Hit', part of you has to question why the two best tracks only appear on the deluxe version. In today's world of streaming services, it doesn't really matter, although you'd be forgiven for feeling aggrieved if you'd purchased the standard version. Let down slightly by a couple of dud tracks, Only Ghosts still comes in as an impressive metal album.
AD Rating 6.5/10